Do you feel like you are in a rut when it comes to new ideas in the kitchen? I swear I cook the same thing over and over again. I am due for some inspiration and some simple and healthy, family-friendly dinner recipes! Have no fear... help is here!!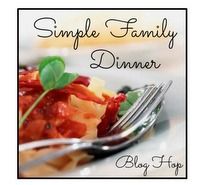 I am thrilled to be co-hosting the Simple Family Dinner Blog Hop with Becky of
This Reading Mama
, Mari of
Inspired by Family
, and Jill of
Enchanted Homeschooling Mom
. Not only am I sharing one of MY family favorite recipes today, bloggers across the web will be sharing their recipes over the next month as well! Better yet, ALL of these recipes will be added to our
Simple Family Dinner Blog Hop Pinterest board
. This is sure to be a GREAT resource of family dinner ideas! You can find the blogs participating in the Simple Family Dinner Blog Hop at the bottom of this post with the dates they will be sharing.
To kick off our blog hop, I am sharing a recipe that my family loves, and I cook at least once a week (Yeah, I told you I am in need of some new ideas)! To be honest, at this point I literally throw my ingredients into the bowl, so I had to try to measure things out to give you a recipe. So adjust the measurements to your family's preferences.
I love this recipe because it caters to our entire family. We each have different tastes, and do not forget my incredibly picky son, but we can all enjoy this dinner. I do not feel like a made-to-order cook, and we all get something we enjoy. So choose toppings that your family likes (I've shared some suggestions below) and let the kids build their own fajitas!
Family Favorite Fajitas
*This recipe makes enough to feed a family of 4
Ingredients
- 1 lb Chicken or Beef
- 1 Onion
- 2-3 Bell Peppers (any combination of red, yellow, and green)
- 3 Garlic cloves, minced
- 1/4 cup Olive Oil
- 1/4 cup Worcestershire Sauce
- 1 pkg Taco Seasoning Mix (choose mild if you want to avoid spicy results)
- 1/2 tsp Cumin Powder (optional)
- 1 Tbsp Lime Juice
- Salt to taste
- Tortilla Shells
Our Favorite Fajita Fixin's
- Cheddar Cheese, grated
- Sour Cream
- Salsa or Tomato, diced
- Lettuce, chopped
- Avocado, sliced
- Black Beans, drained
- Black Olives, pitted and chopped
- Mexican Rice
Directions
I've decided I'm not going to be fancy here. This is EXACTLY how I do it. If you want to mix up the marinade and let your meat and veggies sit in it over night, I am sure you will have even tastier results.
1. Cut your meat!
The trick is to cut pieces that will be easy to eat from a torilla. I think thin pieces, no longer than 2" are best. I add my chicken directly to a large skillet (mine is actually a deep wok... works great) and add about half of all of your marinade ingredients (oil, taco seasoning, cumin, worchershire, lime juice, and garlic). Don't feel you need to be exact.. just dump it in, and toss with your chicken.
2. Cut your veggies!
I slice my peppers and onions and cut them in half, so they are still long enough that the kids can pick out the things they don't like, but small enough to work well in the fajitas. Add these to a bowl or ziploc bag and toss in the second half of your marinade

ingredients (oil, taco seasoning, cumin, worchershire, lime juice, and garlic). Again, don't worry about being too exact! Set aside.
3. Cook your chicken/beef!
Toss the meat until is cooked through, but not browned, over medium-high heat.
4. Add the veggies!
Add your veggies to the skillet along with the marrinade, and continue to cook with the meat. Toss occassionally. After a bit, the water from the veggies will begin to cook down, and you can let the mixture sit for a bit on the bottom of the pan before tossing to get them to brown up a bit. (If you like the charred, fajita taste).
5. Prepare the extras!
If you don't have a tortilla warmer, place your tortillas in the microwave inside a dish towel to warm them up. If you eat fajitas as often as we do, you may want to invest in your own tortilla warmer. They are awesome! I'm sure I got mine for $12 from the grocery store.
Serve fajitas with toppings of choice! Some suggestions are listed above with the ingredients. Our family favorites are
salsa
, sour cream, chopped lettuce, and grated cheese.
6. Enjoy!
For a happy family, let the kids make their own fajitas using their favorite toppings. Take a warm tortilla and layer it with your fajita mix and any other toppings you like. Wrap it up and enjoy!
This is my 9 year old's favorite combination...
Happy Kids + Clean Plates = Happy Mom
I hope your family enjoys our favorite dinner recipe!
Happy Cooking!!!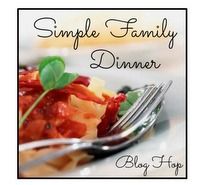 Join us in the Simple Family Dinner Blog Hop!
These bloggers are sharing their favorite Yummy & Healthy Recipes on the dates listed below.
2/20 In Culture Parent
2/23 Octavia and Vicky
2/24 Kid World Citizen
2/26 Childhood 101
2/27 Triple T Mum
3/4 Pickle Bums & The European Mama
3/5 The Golden Gleam guest posting on This Reading Mama
3/10 Rainy Day Mum & Jenni Fischer
3/11 Cakes and Scribbles
3/13 Mermaids' Makings & Mud Hut Mama
3/15 Small Potatoes
3/16 Little Artists